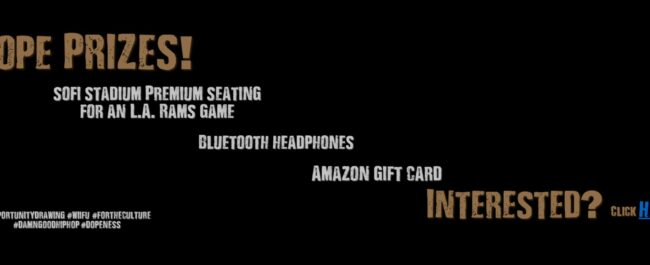 Prize Drawing: Want to win Rams tickets? Bluetooth headphones?
Download A DOPE ASS digital HIP HOP ALBUM For only $10.99 by August 23, 2020.
AND YOU'll be automatically entered into an opportunity drawing for a chance to
WIN one of 3 DOPE prizes:
1st Place(($500 value)
A Pair of sofi stadium PREMIUM tix for a
2020 L.A. Rams 2020 regular season game
2nd Place ($250 value)
NAME brand Bluetooth headphones
3rd place ($100 value)
An amazon gift card
PLUS … you'll have a DOPE ASS album that feeds your soul!!!
DAMN!!!! A $10 purchase WAS never more worth it!!!
Click here and make it happen OR GO TO https://tinyurl.com/dopeprizes
#opportunitydrawing #wiifu #fortheculture #damngoodhiphop #dopeness
Official Prize Drawing Flyer – Album Promo